uDesign T-shirt Design Software

God bless the internet that allows people from all backgrounds to achieve online success. It is an unwritten rule of the online world that, if you are determined and consistent enough, you can be successful. You can even become a true professional in almost any industry, all thanks to the resourcefulness of the internet.
The t-shirt industry is no exception to that. Starting a printing or a t-shirt business is one of the most accessible, affordable endeavors. This is often mentioned as a business you can start from home. Many have gone this route for many years and eventually optimized their expenses and resources. So much so that all you need to do now in order to own a t-shirt brand is have a laptop. It sounds impossible, but if you follow some steps, you will see that it is perfectly viable. Wewill update the posts about how exactly you can do that in the near future.
But what I want to focus on in this post is t-shirt customization. Assuming you are running a t-shirt business, or just a printing business, and want to simplify this part of your service, I have a great suggestion for you: a customization tool, that you can easily add to your site, which will run the process smoother, while your customers have fun ordering their favorite products.
Implementing this option has become a must. Personalizing the products is the core of this business, because "There is no accounting for tastes". Regardless of how good you think your products are, nothing beats the actual choices of the customer. But you must already know that, if you are running a printing business. Your products can vary from t-shirts and hoodies to mugs and tote bags, to name a few. So, the use of a customization tool is only a matter of time.

I was recently made aware of such a designing tool, that promises all of the above. But is also vouches to boost your sales.
uDesign is a "all in one designer" that is easy to use, responsive, with an ample library of full, ready-to-print, premium designs and changeable fonts. Basically, you add it to your site so that the customers can choose the garment, choose a print – uploaded from their device or from the tool library , add a text – that can change, and then order the final product. All you are left to do is send it to the printer.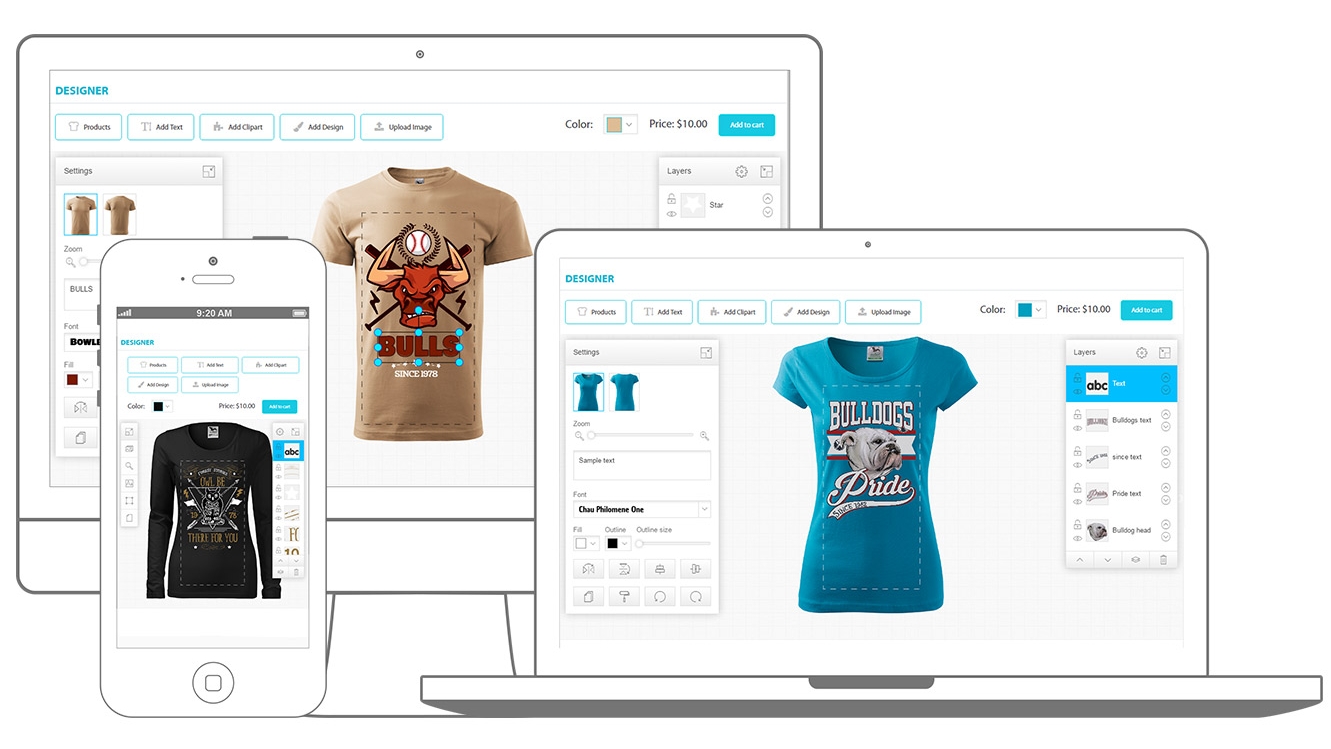 Here's the video of the tool in action:
The product can be purchased by choosing a plan that best suits your needs. If you're not sure, simply request a free trial and go from there.
This is certainly not quite a new idea nor is it the single one on the market, but I would highly recommend it because it is SO EASY to use! Compared to other similar customization softwares, this one is also really affordable, considering it offers free unlimited support. They provide in-depth documentation along with online video tutorials to help you fully use the provided cutting edge features. I think that is paramount to a productive run.
So, whatever your printing model is, the business would surely improve with this T-shirt Design Software.
And if you are already using it, tell us how it's working for you. Did we leave anything out? Drop a comment and tell us about it!