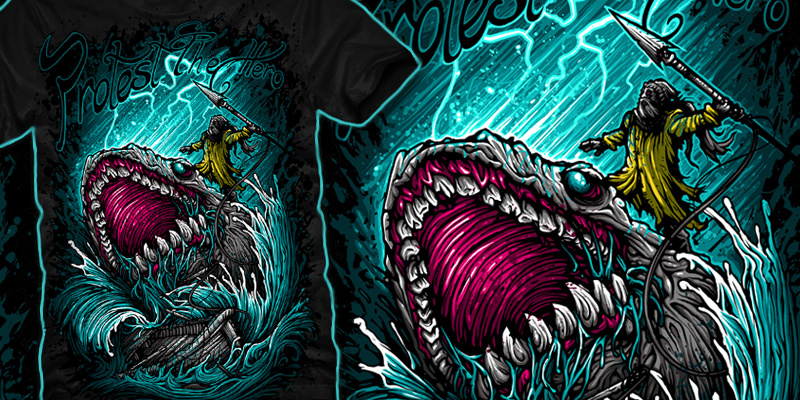 Being a metal fan, I've seen thousands of metal t-shirt
designs, some of them absolutely lame but some of them totally awesome. There are bands that don't care that much about their promotional merchandise and don't invest time and money in t-shirt or cd artwork that kicks ass, but instead, they try to rely
on their music's impact on their fans. On the other side, there are bands that build their names on strong visual artworks, created by big artists, and together with their music, create a bigger impact on their fans. And of course, there are bands that I would never listen, but have great promotional artwork.
Thanks to those bands, these artists had the chance to create the sickest,
craziest and complex pieces of art. However, this is my personal top, so you can absolutely disagree with the order or my preferences, but I am curious to find out which one would you place on the first place?
1st place – The Black dahlia Murder – Phibes – designed by Dan Mumford
2nd place – Chimaira – designed by Godmachine
3rd place – Suicide Silence – designed by LaFlamme
4th place – Neaera – designed by Everybodulovesirene

5th place- Protest the hero –Alaskan Whaler -  designed by Dan Mumford
6th place–  Children of Bodom – designed by JohhnyCrap
7th place – Stone Sour – designed by Raf Wrechter
8th place-  Caliban – designed by Jeff Finley
9th place – Killswitch Engage – designed by Jeoff  May
10th place-Bullet for my Valentine – designed by GodMachine